CS4HS @ CAL
June 28-29, 2010 - 430 Soda Hall
A summer workshop for middle-school and high-school teachers
Organized by UC Berkeley, supported by Google's CS4HS initiative
Questions?
Email ColleenL at berkeley dot edu
Goals
Identifying and motivating a group of outstanding (but under-served) local Bay Area high school teachers of computer science
Introducing the Berkeley lab-centric approach to teaching computer science.

Lab-centric instruction emphasizes supervised, hands-on activities by substituting lecture for lab time. It combines a multitude of pedagogical techniques into the format of an extended, structured closed lab. We would like to discuss the range of benefits for students, including: frequent and varied self assessments, integrated collaborative activities, and a systematic sequence of activities that gradually increases in difficulty. Instructors also benefit from a deeper window into student progress and understanding.

Providing accurate information to teachers as student mentors:

What is it like to study computer science at the college level?
What is it like to work as a computer scientist in industry? etc.

Exposing the teachers to current CS research, particularly research used to solve relevant societal problems
Exposing the teachers to inspiring role models (women and minority computer scientists)
Providing teachers the chance for hands-on workshops, e.g. Scratch and CS Unplugged – things they can use directly in their classes
Sharing teaching tips
Offering participants new classroom skills
Listening to them to find out what their chief concerns are, and what UC Berkeley can do to help
Logistics
Driving Directions: here. We have set up a Google map to coordinate carpooling. Email ColleenL@berkeley.edu to be sent the link.
Public Transportation: From Downtown Berkeley BART: Campus Shuttle (P = Perimeter Line) available every 12 minutes from Downtown Berkeley BART Station (stand in front of "Sandwich Zone", 2117 Shattuck Ave). Take the Perimeter shuttle to Cory Hall (4 stops, ask the driver to announce the Cory Hall stop). Walk across the street to Soda Hall, the building with the Green tiles. Walk along LeRoy Avenue, passing the 4th floor E entrance on the left, and walk in to the N side of Soda Hall to the Wozniak lounge from the glassed archway doors "around the corner".
Tentative Schedule
| | | | |
| --- | --- | --- | --- |
| | Monday | | Tuesday |
| 8:00 - 9:00 | Registration, Continental Breakfast | 8:00 - 9:00 | Continental Breakfast |
| 9:00 - 9:30 | Welcome Address - EECS Department Chair - David Culler, Dan Garcia, Sheila Humphreys, Eugene Lemon & Colleen Lewis | 9:00 - 9:10 | Welcome activity - Neighbors |
| 9:30 - 9:45 | Welcome activity - Spectrum | 9:10 - 10:30 | Hands-on Scratch and BYOB based on Scratch demo. Here are our labs. |
| 9:45 - 10:45 | Group discussion - every teacher introducing themselves, sharing their "how I got here" stories, and hopes and expectations for the workshop | 10:30 - 10:45 | Break |
| 10:45 - 11:00 | Break | 10:45 - 12:00 | Computing careers panel from UC Berkeley industry & academic women & minority alumni |
| 11:00 - 12:00 | Continuation of discussion, teachers sharing their the situation at their school, "I wish I could have help with..." wish-list, experience with prior professional development activities, etc. Clusters of similar situations will emerge. | 12:00 - 1:00 | Lunch - Guest Speaker Raquel Romano |
| 12:00 - 1:00 | Lunch (Focus group of what we would like from an emerging computing educator website) | 1:00 - 2:30 | CS Unplugged |
| 1:00 - 2:30 | Survey of the computing education landscape and introduction to CS10 - "The Beauty and Joy of Computing" (One of 5 CollegeBoard AP Pilots for a new high school computing AP course entitled "Computer Science Fundamentals") | 2:30 - 3:00 | Break |
| 2:30 - 2:45 | Group Photo | 3:00 - 4:15 | Share great teaching tips |
| 2:45 - 3:15 | Break | 4:15 - 4:30 | Demonstration of Ensemble computing portal which will serve as our online community site |
| 3:15 - 3:45 | Introduction to UC Berkeley's Lab Centric Approach - Nate Titterton | 4:30 - 5:00 | Closing + Evaluations |
| 3:45 - 5:00 | BYOB based on Scratch - Demo of the innovative language used in our non-majors course and in the AP Fundamentals course. This is a very advanced variant of vanilla "Scratch 1.4" | | |
| 5:00 - 5:15 | CSTA Chapter Formation Ceremony | &nbsp | &nbsp |
| 5:15 - 7:00 | Dinner, with faculty speaker Kathy Yelick | &nbsp | &nbsp |
Attendees (who are sometimes a little crazy)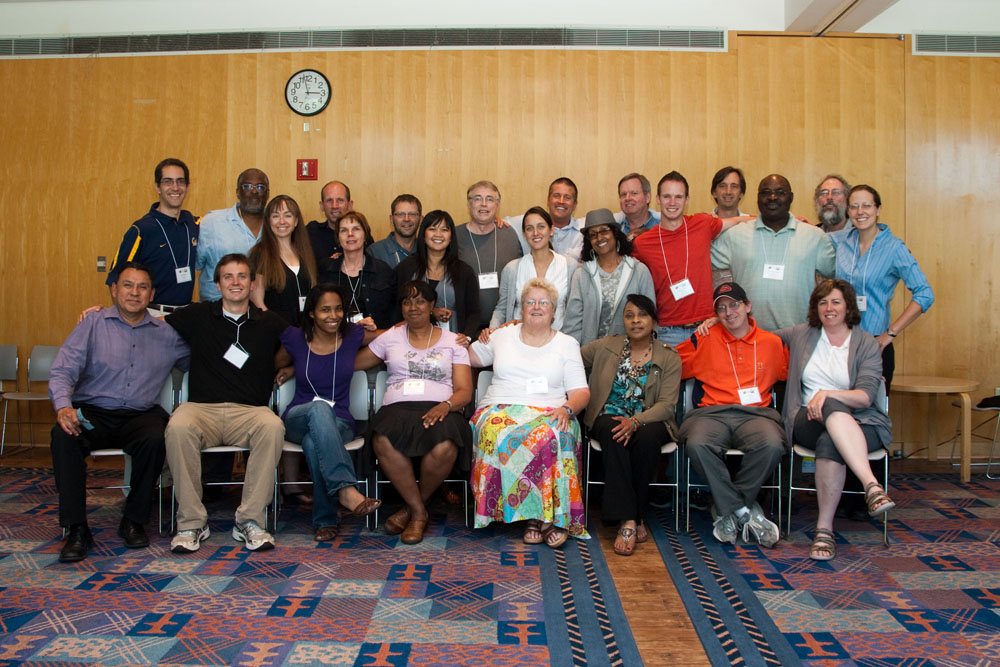 Coordinators